Medscape is mourning the loss of Bret Stetka, MD, an executive editor who covered neuroscience with curiosity and authority for the last 15 years. Stetka, who was 43, died on August 6 after a brief illness.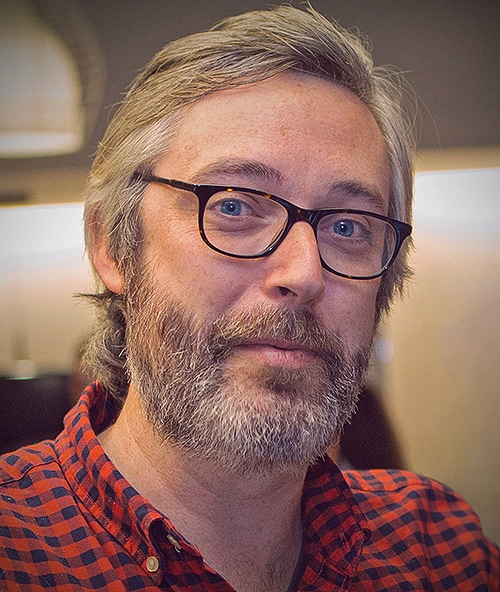 Bret Stetka, Longtime Medscape Editor
A nonpracticing physician, Stetka was equally comfortable writing about complex science for an audience of neuroscientists as he was documenting the effect of modern technology on the mind for a broader audience.
"Bret was a rarified talent as a physician-journalist and author," said Eric Topol, MD, editor-of-chief of Medscape. "His work in neuroscience and role as a master explainer of complex matters for the uninitiated was duly recognized throughout his career. I feel so fortunate to have had the chance to work with him. All of us at Medscape are grieving his loss."
In addition to his work for Medscape, Stetka was a regular contributor to NPR and Scientific American. His work has also appeared in WIRED, Slate, and The Atlantic.
His passion for understanding the inner workings of the mind knew few limits. Last year, Stetka published his first book, A History of the Human Brain, which chronicles the evolution of the brain from its earliest origins millions of years ago to the present day. Although the book dealt with sprawling scientific themes, its main takeaway was rendered simply and practically: it's worth thinking about our evolutionary past to understand how to preserve our minds today.
"Many influences that prevent dementia and Alzheimer disease and preserve cognition are the same influences that led to our brain's evolution in the first place," Stetka told Kansas Public Radio last year.
As an editor at Medscape, Stetka was equally adept at helping other authors find their voice and express their ideas.
"Bret was more than simply my editor at Medscape; he was a friend, collaborator, colleague, and participant. He allowed our work to take risks and address complex topics," said Steve Strakowski, MD, a Medscape contributor and professor of psychiatry at Indiana University. "His gentle, kind, inquisitive, and caring spirit will be sadly missed."
"Bret was truly a 'class act'," said Mark Alberts, MD, chief of neurology at Hartford Hospital in Connecticut and a regular contributor to Medscape. "His commitment to sharing medical advances was outstanding. I will greatly miss his expertise and professionalism as well as his collegiality."
From MD to Journalist
Born in Buffalo, New York, Stetka was exposed to science and medicine at an early age by his father Daniel Stetka, a geneticist who ran an independent clinical laboratory.
After attending the College of William & Mary, Stetka enrolled at the University of Virginia Medical School with plans to become a neurologist. After medical school, he worked in a biological psychiatry lab at Mount Sinai in New York City, where his research focused on the effect of resveratrol in mice.
"I ended up in a few research labs and loved the science behind it," Stetka said. "So rather than do a residency match I did a research post-doc."
The handful of papers that Stetka co-authored during this time linked two of his great interests — neuroscience and writing. He began considering a professional life outside of traditional medicine.
"I loved melding the creative aspect of science — writing about it — while also keeping up to date on it," Stetka later said of his decision to leave medicine for journalism.
In January 2007, Stetka joined Medscape as an editor covering neurology and psychiatry, a position he would hold for the remainder of his professional career. Over the course of 15 years, he covered every major advance in these fields, from addiction medicine and Alzheimer disease to stroke and multiple sclerosis. He wrote 169 articles for Medscape, many of them deeply reported feature stories.
"He was a remarkable man who used his intelligence, modest charm, and journalistic talents to build our reputation as a leading provider of content for psychiatrists and neurologists," said Caroline Cassels, executive editor of Medscape Psychiatry and Neurology, and Stetka's most recent manager. "As a physician himself, he brought unmatched insight, depth, and breadth to the team's content. And as a colleague, Bret was warm, funny, sweet, genuine, and always supportive."
Some of Stetka's most engaging and enduring journalism incorporated another of his life interests — nutrition and cooking. Stetka's articles on "best foods for the brain" were routinely among Medscape's best read.
"Bret was gifted at coaching, coaxing, and connecting us with resources," said Medscape contributor Drew Ramsey, MD, founder of The Brain Food Clinic in New York City and an assistant clinical professor of psychiatry at Columbia University. "He helped our field transition to the digital world and share knowledge. Our field and brain science have suffered a tremendous loss — an advocate and journalist who spoke the language of science and medicine."
A Family Man and a Multi-Instrumentalist
A lifelong musician, Stetka played the guitar, drums, and piano. He also routinely wrote, recorded, and released original music, first in rehearsal spaces in Brooklyn, New York, and later in a home studio in Garrison, New York. Most recently, he produced the album "Isolation Songs," a set of six songs recorded remotely during the pandemic with two collaborators under the name "Pen Pal." The album's themes — the love and exhaustion that comes with raising a young child, growing older, leaving New York City — reflect the creativity and sensitivity of a man that was deeply treasured by his colleagues.
Last year, Stetka was overjoyed by the birth of his first child, a daughter. It was, in his words, the best experience of his life, one that greatly outshone all of his accomplishments as a journalist and writer.
In addition to his daughter, Stetka is survived by his wife, the writer Amanda Petrusich.
A memorial fund has been established to donate to the education of Stetka's daughter.
Memorial services will be held on Saturday, August 20 at 1 PM at St. Philips Church in Garrison, New York.
Gabriel Miller is a senior editorial director at Medscape.
Follow Medscape on Facebook, Twitter, Instagram, and YouTube.
Source: Read Full Article