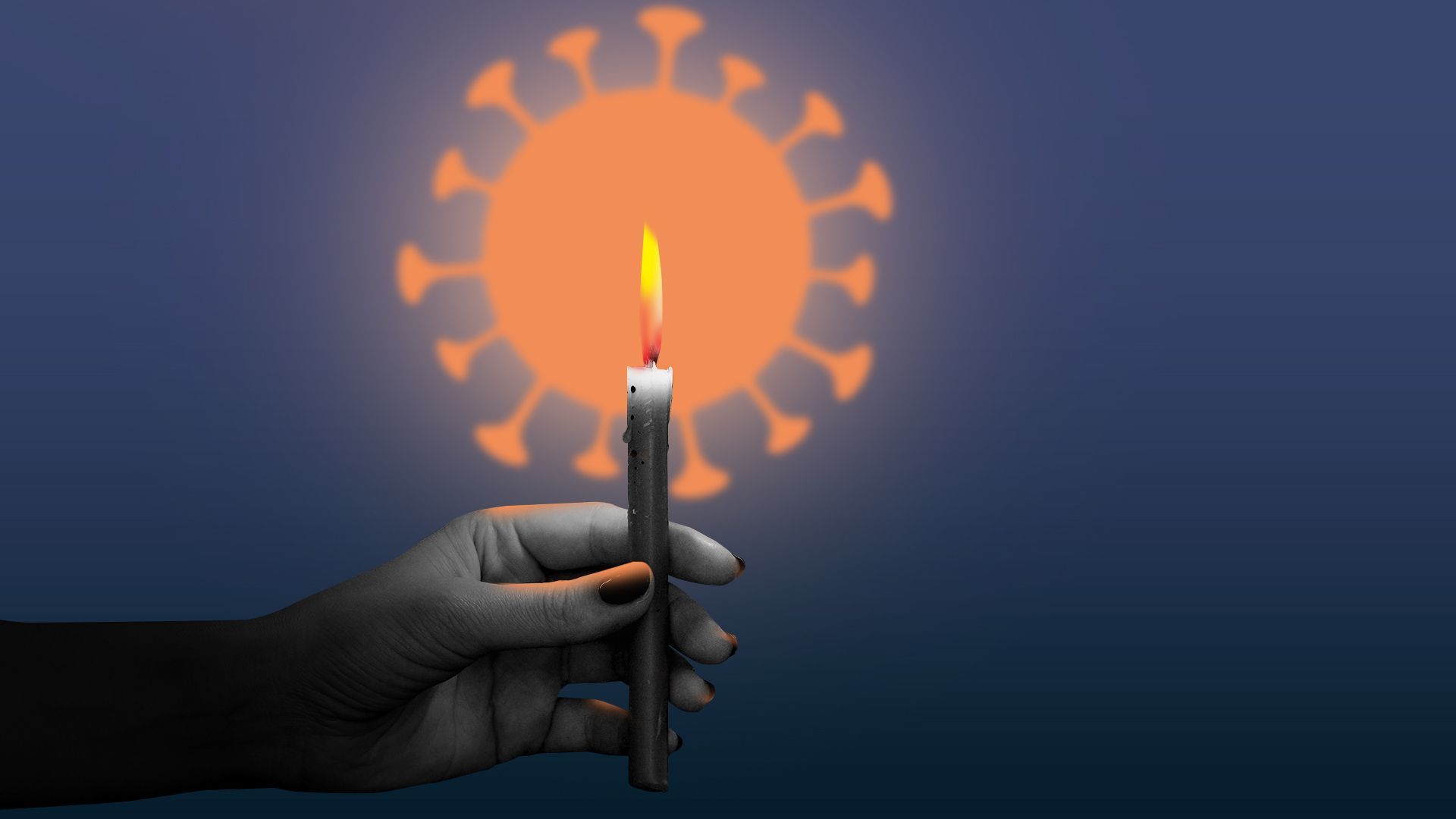 Illustration: Aïda Amer/Axios
The U.S. maternal mortality rate increased during the COVID-19 pandemic, disproportionately impacting Black women, with far higher odds of severe complications among pregnant patients with COVID infection at delivery, a new analysis published in JAMA Network Open found.
Why it matters: The United States has the highest maternal mortality rate of developed countries, and the pandemic made it worse — in 2021, 1,205 women died of maternal causes, data from the CDC show, compared to 861 in 2020 and 754 in 2019.
Driving the news: COVID-19 posed a serious risk to patients giving birth.
The JAMA analysis, led by researchers from the University of Southern California, Los Angeles, found the mortality risk of pregnant patients with COVID-19 at delivery between March 2020 and December 2020 was 14 times higher than those without the virus.
The big picture: Previous studies have found contributors to the high maternal mortality rate during the pandemic have included a lag in COVID-19 vaccination in pregnant people due to concerns over the potential effects of the vaccine that may persist despite studies showing they are safe.
The CDC estimates that as of April 1, approximately 71% of pregnant people have completed the primary vaccination series (below the vaccination rate for those over the age of 18), and only about 23% of pregnant people have received an updated booster dose.
"[I]f you have COVID-19 during pregnancy, you are at increased risk of complications that can affect your pregnancy and developing baby," said Scott Pauley, a CDC press officer, adding that the center is urging pregnant people to stay up to date on their vaccinations.
State of play: Risk factors that made someone more susceptible to severe COVID-19 are also risk factors that make a pregnancy higher risk including having higher blood pressure, cholesterol and diabetes.
This is part of why maternal mortality rates increased in 2021, Rachel Bond, director of women's heart health at CommonSpirit Health, told Axios.
The pandemic also exacerbated existing social determinants of health, and as a result disproportionately impacted women of color, who were often on the frontlines working "essential" jobs and getting sick.
"At the core of the maternal mortality crisis is psychosocial stresses," Bond said, adding that both sexual and racial discrimination plays a role.
Source: Read Full Article