Doctors caring for patients taking steroids now have broader flexibility for which drugs to use to prevent osteoporosis associated with the medications.
The American College of Rheumatology (ACR) has released an updated guideline that advises treatment providers on when and how long to prescribe therapies that prevent or treat glucocorticoid-induced osteoporosis (GIOP). Since the ACR last updated the guideline in 2017, the Food and Drug Administration has approved new treatments for osteoporosis, which are now included in the recommendations.
The new guideline also advises physicians that they may need to transition patients to a second treatment after concluding a first course — so-called sequential therapy — to better protect them against bone loss and fracture. It also offers detailed instructions for which drugs to use, when, and how long these medications should be administered for patients taking glucocorticoids over a long period of time.
The guideline's inclusion of sequential therapy is significant and will be helpful to practicing clinicians, according to S.B. Tanner IV, MD, director of the Osteoporosis Clinic at Vanderbilt Health, Nashville, Tennessee.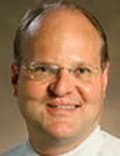 Dr S.B. Tanner IV
"For the first time, the ACR has offered guidance for starting and stopping treatments," Tanner said. "This guideline supports awareness that osteoporosis is lifelong — something that will consistently need monitoring."
An estimated 2.5 million Americans use glucocorticoids, according to a 2013 study in Arthritis Care & Research. Meanwhile, a 2019 study of residents in Denmark found 3% of people in the country were prescribed glucocorticoids annually. That study estimated 54% of glucocorticoid users were female and found the percentage of people taking glucocorticoids increased with age.
Glucocorticoids are used to treat a variety of inflammatory conditions, from multiple sclerosis to lupus, and often are prescribed to transplant patients to prevent their immune system from rejecting new organs. When taken over time these medications can cause osteoporosis, which in turn raises the risk of fracture.
More than 10% of patients who receive long-term glucocorticoid treatment are diagnosed with clinical fractures. In addition, even low-dose glucocorticoid therapy is associated with a bone loss rate of 10% per year for a patient.
Osteoporosis Prevention
After stopping some prevention therapies for GIOP, a high risk of bone loss or fracture still persists, according to Linda Russell, MD, director of the Osteoporosis and Metabolic Bone Health Center for the Hospital for Special Surgery, New York City, and co-principal investigator of the new guideline.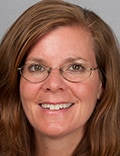 Dr Linda Russell
"We wanted to be sure the need for sequential treatment is adequately communicated, including to patients who might not know they need to start a second medication," Russell said.
Physicians and patients must be aware that when completing a course of one GIOP treatment, another drug for the condition should be started, as specified in the guideline.
"Early intervention can prevent glucocorticoid-induced fractures that can lead to substantial morbidity and increased mortality," said Mary Beth Humphrey, MD, PhD, interim vice president for research at the University of Oklahoma Health Sciences Center in Oklahoma City and co-principal investigator of the ACR guideline.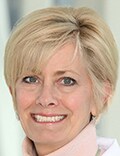 Dr Mary Beth Humphrey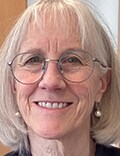 Dr Janet Rubin
Janet Rubin, MD, vice chair for research in the Department of Medicine at the University of North Carolina at Chapel Hill, said she is hopeful the guideline will change practice."The risk of bone loss, fractures, and osteoporosis due to glucocorticoids has been known since the beginning of time, but the guideline reinforces the risk and treatment strategies for rheumatologists," she said. "Such recommendations are known to influence doctor prescribing habits."
Anyone Can Fracture
While age and other risk factors, including menopause, increase the risk of developing GIOP, bone loss can occur rapidly for a patient of any age.
Even a glucocorticoid dose as low as 2.5 mg will increase the risk of vertebral fractures, with some occurring as soon as 3 months after treatment starts, Humphrey said. For patients taking up to 7.5 mg daily, the risk of vertebral fracture doubles. Doses greater than 10 mg daily for more than 3 months raise the likelihood of a vertebral fracture by a factor of 14, and result in a 300% increase in the likelihood of hip fractures, according to Humphrey.
"When on steroids, even patients with high bone density scores can fracture," Tanner said. "The 2017 guideline was almost too elaborate in its effort to calculate risk. The updated guideline acknowledges moderate risk and suggests that this is a group of patients who need treatment."
Rank Ordering Adds Flexibility
The updated ACR guideline also no longer ranks medications based on patient fracture data, side effects, cost care, and whether the drug is provided through injection, pill, or IV.
All of the preventive treatments the panel recommends reduce the risk of steroid-induced bone loss, Humphrey said.
"We thought the 2017 guideline was too restrictive," Russell said. "We're giving physicians and patients more leeway to choose a medication based on their preferences."
Patient preference of delivery mechanism — like a desire for pills only — can now be weighed more heavily into drug treatment decisions.
"In the exam room, there are three dynamics going on: what the patient wants, what the doctor knows is most effective, and what the insurer will pay," Tanner said. "Doing away with rank ordering opens up the conversation beyond cost to consider all those factors."
The guideline team conducted a systematic literature review for clinical questions on non-pharmacologic and pharmacologic treatment addressed in the 2017 guideline, and for questions on new pharmacologic treatments, discontinuation of medications, and sequential and combination therapy. The voting panel consisted of two patient representatives and 13 experts representing adult and pediatric rheumatology and endocrinology, nephrology, and gastroenterology.
A full manuscript has been submitted to for publication in Arthritis & Rheumatology and Arthritis Care and Research for peer review, and is expected to publish in early 2023.
Humphrey and Russell, the co-principal investigators for the guideline, and Rubin have disclosed no relevant financial relationships. Tanner reported a current research grant funded by AMGEN through the University of Alabama at Birmingham and being a paid course instructor for the International Society for Clinical Densitometry bone density course, Osteoporosis Essentials.
Kerrie Rushton is a writer living in Maryland.
For more news, follow Medscape on Facebook, Twitter, Instagram, and YouTube.
Source: Read Full Article