Within hours of Tom Brady winning his seventh Super Bowl on Monday – at the improbable age of 43 – the headlines came charging towards us.
"Tom Brady's insane diet that keeps him at the top of the NFL," crowed one. "Tom Brady's diet: How TB12 has prolonged Buccaneers quarterback's career," screamed another, referring to Brady's company, which espouses a "holistic" guide to "health and wellness" and sells everything from vitamin supplements to "vibrating rollers" and a book, The TB12 Method: How to Achieve a Lifetime of Sustained Peak Performance.
There's no doubt that, on game day, Brady looked buffer than any 43-year-old parent of three has a right to be, and in a way that made the rest of us feel, comparatively, like hobbits with rows of broken teeth. (Even Serena Williams, who at 39 has won 23 grand slams – one of them while pregnant – gushed: "Can you imagine winning the Super Bowl at 43?")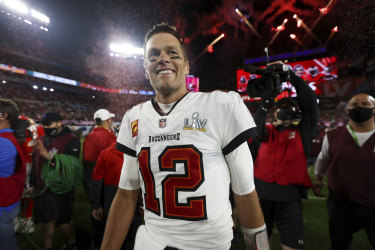 Since NFL superstar Tom Brady won his seventh Super Bowl, people have been obsessing over what he eats, in a move making countless dietitians nervous.Credit:AP
But could Brady's "insane diet" " most notably, his abstinence from eating "nightshades", a plant family that contains a chemical called alkaloids and includes tomatoes, white potatoes, eggplants and capsicums – have anything to do with it? Many people, like Brady's former personal chef, Allen Campbell, who created the recipes in Brady's book, believe that alkaloids promote inflammation.
But there is no scientific research confirming this claim. (Some studies have even suggested that certain nightshades, like tomatoes, might have anti-inflammatory properties and that anatabine, an alkaloid compound found in peppers, potatoes, tomatoes and eggplant has anti-inflammatory effects for people who suffer from joint pain and stiffness.)
"Restricting vegetables, oh my God, we don't even eat nearly enough," says CSIRO nutrition and research scientist Dr Gilly Hendrie of Brady's diet, adding that 95 per cent of Australians don't eat the recommended five servings of vegetables and two servings of fruit per day, and that vegetables, being nutrient-rich and kilojoule-poor, are a crucial part of maintaining a healthy weight. "We can't have any message that says 'Further restrict them', because it's just another barrier for people.
"It [also] doesn't tell the full story. He's an elite athlete, he trains; his body and his physique are his career, so he puts a lot of energy and effort into it, and people are linking this one concept of avoidance of these particular foods to how amazing and successful he is. There's a lot of missing pieces that they're not discussing. If one of us goes and just tries that one strategy in isolation we're not going to become the next superstar in the Super Bowl. But, that's kind of what the public want to believe."
Indeed, Brady reportedly practises transcendental meditation, surfs off-season, and has, for many years, been given regular "deep force" massages (targeting specific muscle groups) and other treatments in a private resort in the Bahamas by trainer Alex Guerrero, who Brady has called his "body engineer".
Could this finally put a halt to the public being unwitting, and often vulnerable recipients of celebrity dietary strategies that are frequently devoid of scientific backing? There have been countless over the years from basketball star LeBron James' sugar, dairy and carb-free diet, to Kate Moss' notorious statement that, when she and her friends reach for biscuits, they'd say to each other, "Nothing tastes as good as skinny feels." (Brady's wife, supermodel Gisele Bündchen, follows a similar regime to him eating a largely plant-based diet and intermittently fasts two days of the week).
"A celebrity is usually good at acting, or singing or whatever they're doing – that's great," says Simone Austin, who was the Hawthorn Football Club's dietitian from 2008 until last year. "A mechanic is good at fixing your car, a dentist is good at fixing your teeth, a dietitian or medical health professional is good at looking at your diet. You wouldn't ask a celebrity to fix your car or your teeth, so why are you asking them about your health? They're not qualified for that."
Austin, past president of Sports Dietitians Australia and author of the book, Eat Like An Athlete, says she would never recommend an athlete, or anyone, to eliminate nightshades from their diet, nor any other particular nutrient-rich food group unless there was a "medical need" to do so. (Brady's diet also includes cutting out dairy, and refraining from mixing fruit with other foods.) "There's great folate, B-group vitamins, good complex carbs in potatoes; in tomatoes, there's great vitamin C, A, and lutein," says Austin, the last component a powerful antioxidant that has been shown to protect eyes against light-induced damage. "Eating lots of plant foods, nuts, seeds, legumes, vegetables; we know that that is good for our health," she says. "Maybe [we should] stop focusing on what you should be cutting out, and [be] focusing on what you should be putting in."
Get a little more outta life
Start your week with practical tips and expert advice to help you make the most of your personal health, relationships, fitness and nutrition. Sign up to our Live Well newsletter sent every Monday.
Most Viewed in Lifestyle
Source: Read Full Article