People who spend more time in nature, be it parks, gardens, mountains, lakes or beaches, tend to have better mental and physical health.
But few of us spend much time there. During the pandemic, Professor Xiaoqi Feng, from the School of Population Health at the University of New South Wales, conducted a survey of more than 3000 Australian adults.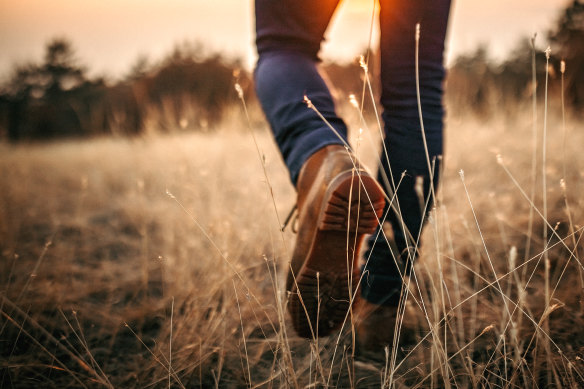 Being in nature is a "natural health service".Credit: Getty
She assumed, given that many gyms and workplaces were closed, that people would have more time to be in nature. Yet, one-third of people spent less than two hours a week outside.
Nature prescriptions have become increasingly popular as an adjunctive therapy to traditional treatments in adults with cardiovascular diseases, psychological distress or those who are physically inactive, sedentary, lonely or burnt-out.
They are not just a walk in the park. Nature prescriptions involve doctors or psychologists who understand the capacity of their patients and can design an activity to suit them. This could be as straightforward as a directive to sit in a park each day, listen to the birds and breathe in the fresh air; it could involve walking in nature; a gardening program; ocean swimming; choosing your own adventure; or more formal outdoor exercise classes.
Though many of the respondents to Feng's survey were interested in being prescribed nature, she was unsure whether it would lead to the same positive health outcomes as experienced by people who get out there of their own accord.
So, for the new review, published in The Lancet Planetary Health, Feng and her team analysed 28 studies testing different nature prescriptions on people with health issues ranging from stress to cardiovascular disease, substance abuse to obesity, mental ill health to dementia.
They found there were significant benefits for physical health including blood pressure and step count as well as for mental health, including depression and anxiety.
Professor Thomas Astell-Burt, an ARC Future Fellow at the University of Wollongong, says the findings align with decades of research.
In fact, Professor Delene Weber, a social scientist at the University of South Australia, says the benefits have been known for close to 200 years.
"Long before Melbourne's innovative children's hospital used aquariums in the waiting room to calm children and views of green space to help recovery, health professionals have been aware of this inherent link. South Australia's St Andrews Hospital was located overlooking Adelaide's southern parklands because they knew from the experience of nurses in the Crimean War in the 1850s that recovery was better when patients had access to green space."
Why is nature so potent for our health?
Natural sunlight in the morning, for example, sets our circadian clock, which has knock-on effects on our immune system, mood and metabolic function. Vitamin D, which is best sourced from the sun, is also essential for bone health as well as our overall health.
Trees, of course, do not only support other forms of life, like birds, but help clean the air and provide oxygen, while sea mists and sprays may help reduce breathing difficulties, including among children with asthma, in part through reduced inflammation and improved lung function.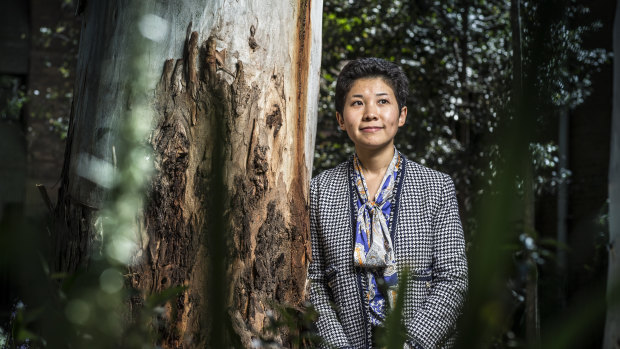 Professor Xiaoqi Feng.Credit: Paul Jones
In one of Feng's previous studies, she found that children living close to heavy traffic are more likely to have asthma. But, if the children who live in those areas also have green space around them – 40 per cent or more – they reduce their risk of developing asthma compared to other children who live in high traffic-polluted areas without the green space.
These are not the only pathways to better health. Astell-Burt explains: "Contact with nature provides stress relief, renews cognitive capacities depleted through adaptation to challenging circumstances, provides attractive venues for physical and social activities that not only keep us active, but also improves our sleep and reduces loneliness."
We have, what Feng refers to as a "lonely-genic environment": "How we have designed our environment today is not supportive of meaningful connections. It's a car-oriented environment. There are not a lot of common areas people don't have to pay to go to."
Weber adds that, in Australia today, particularly post covid, we have "very significant challenges" with mental health, obesity and social isolation.
Nature prescriptions, Weber says, are a "natural health service" that ought to be part of the solution to these issues and cost little to nothing. "We have nothing to lose, and a huge amount to win."
Feng likens nature prescriptions to the knowledge that we ought to eat more healthy foods and move more but the struggle to do so, and engaging dietitians or exercise physiologists to help.
"Customised nature prescription helps people to connect or reconnect," she says. "If we give a little guidance, it might help people get healthier."
Weber reminds people we don't need a doctor's prescription to get out and enjoy the benefits of nature: "But for many people the validation that a green prescription brings could be a catalyst to get them out enjoying the benefits of nature."
Feng and Astell-Burt are in the process of recruiting for a new trial to address people with metabolic diseases. People in Sydney, the Illawarra or Central Coast are welcome to register their interest online here.
Make the most of your health, relationships, fitness and nutrition with our Live Well newsletter. Get it in your inbox every Monday.
Most Viewed in Lifestyle
From our partners
Source: Read Full Article