Warm weather means day-drinking on a patio, balcony, or anywhere that's outside and has some sun. The more, the merrier—and that means you'll need a lot of beverages on deck. Making individual cocktails isn't ideal, so Sam's Club has made it easy with exclusive Mason jar dispensers that just need alcohol.
You have the choice of Hard Lemonade or Tiki Punch, which just require your favorite vodka or rum, respectively. Each Mason jar dispenser comes with a gallon of the mix, so once you add your booze, you'll have 18 drinks ready to go! The tap makes it easy to keep your drink filled.
"One sip sends you to the beaches of Hawaii with our Tiki Punch mixers," the description says. "This convenient kit comes with an easy-to-use (and reuse) mason jar dispenser."
So after you drain the boozy lemonade or punch, you can keep the glass dispenser for more drinks throughout the summer! Best $13.98 ever spent? I think so.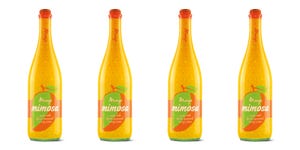 Source: Read Full Article