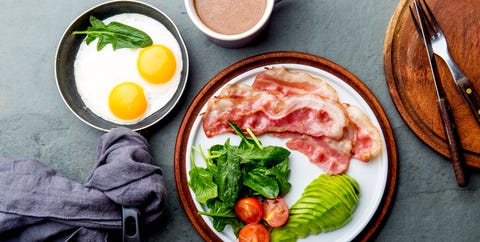 Cooking on any diet is kind of a hassle—but multiply that by 10 on the keto diet (one person can only eat so many meals consisting of steak and arugula salad—sorry, Jenna Jameson).
Luckily, meal delivery services have gotten in on the keto game, offering tons of meals that are keto-friendy (a.k.a., that meet those tricky low-carb, high-fat ratios of the keto diet). So the next time you're feeling overwhelmed (and like you can't do another damn thing with avocados), try one of these keto meal kits.
View this post on Instagram
Grilled steak, veggies & romesco sauce… simple, delish & Keto 👌
A post shared by Keto Fridge (@ketofridge) on
Keto Fridge offers a lot of perks: For starters, you don't have to sign up with a subscription or commit to anything. You can order what you want, when you want—and stop at any time (kind of unheard of when it comes to meal delivery services).
The meals show up ready to eat (you just have to heat them up), and Keto Fridge also has its own bakery, so you can get keto-friendly baked goods delivered to your doorstep along with meals.
How it works: You have to order at least $69 worth of food at a time, and orders are due by 11:59 p.m. EST every Thursday. Your order will be delivered on the following Tuesday or Wednesday.
The menu changes each week, so you can mix it up each time you order. Prices vary per meal, but they're anywhere from $9 to $18 for most dishes, while pastries and desserts range from $6 to $12, usually for a two-pack.
View this post on Instagram
ORDER REMINDER 🚨 Our keto friendly turkey nuggets with buffalo cauliflower is the perfect powerhouse meal. Order by midnight tonight and enjoy next week!
A post shared by Kettlebell Kitchen (@kettlebellkitchen) on
Kettlebell Kitchen offers options for a bunch of different diets, including keto. You simply customize your meal plan to keto, and then pick out the dishes you want for the week.
This service also allows you to choose between medium- and large-sized dishes, and has an "athlete" version of each dish with a few more carbs in case you tend to go hard at the gym and need more energy.
How it works: Order dates and deadlines vary depending on where you live (just enter your zip code and Kettlebell Kitchen will tell you), but meals usually come on Sunday or Monday and then Wednesday or Thursday for a mid-week delivery. They also deliver to gyms in addition to homes.
Meal prices range from $8.95 to $11.95, making it a pretty cheap option. And, while the service mixes up meal offerings every week, they also have some standards that are always available like honey mustard-glazed chicken and grass-fed steak.
View this post on Instagram
The ingredients in your meals matter just as much as macro ratios–if not more. We only use 100% Grass-Fed Beef and 100% pastured eggs, poultry, and pork! Learn more about us on our website. https://m360.us/18fe1
A post shared by Ketoned Bodies (@ketonedbodies) on
The big selling point for Ketoned Bodies: They offer only grass-fed, organic, and sustainable meals. They're also big on healthy fats like ghee and don't use gluten, sugar, or preservatives in their dishes. Grains, vegetable oils, and added or refined sugar are also outlawed.
How it works: You can order meals a la carte (they're usually about $14.95 a pop) or sign up for a package and take it from there. Deliveries usually come in about two days after you place them, but it takes a little longer if you order over the weekend.
Packages range from $70 for five meals (usually used for lunches) up to $950 for 84 meals delivered over a month. Meals are made fresh and then frozen—you just need to microwave them or heat them up in the oven.
View this post on Instagram
You'll think Christmas came early once you take a bite of our new keto-friendly Mediterranean Lamb Burger! Order it using the link in our bio. 👆 . . . . . #MacrosMadeMe #WeightLoss #Fitness #Health #Diet #CleanEating #Factor75 #Health #FueledByFactor #HealthyLifestyle #EatingHealthy #EatGoodFeelGood #Motivation #HealthyHabit #MacrosMadeMe #ChooseHealthy #FitnessFreaks #FitnessJourney #Diet
A post shared by Factor 75 (@factor75) on
Factor 75 is big on grass-fed meats that are free of hormones, GMOs, and antibiotics, and they also use a ton of organic produce. This is another one that services all diet types, but offers up keto-friendly meals (just look for the "K" for keto at the bottom of the recipe).
How it works: Factor 75 delivers a bunch of different packages, ranging from $60 for four meals a week to $198 for 18 meals a week.
You have two options with your plan: You can choose your meals each week, or let the company choose them for you based on your tastes and keto preferences. The meals are delivered fresh, not frozen, so all you have to do is heat them up.
View this post on Instagram
#Keto ? Low-carb? We take all the thinking out of it. No need to worry about cutting carbs on your own or what you can and can't eat. Oh, and do we mention it tastes delicious?!? #diettogo #weightloss #lowcarb #diet #ketodiet #ketoweightloss #ketotransformation #weightlosstransformation
A post shared by Diet-to-Go (@mydiettogo) on
Diet-to-Go offers a Keto-Carb 30 plan, which is a keto-friendly plan (they also service other diets). All meals on this plan are made to give you only 30 grams or less of carbs a day, and they don't offer fruit, bread, sugar, or any other conventional carbs on this plan.
How it works: Diet-to-Go will ask you a bunch of questions about the kind of food you like, and whether you want food delivered five or seven days a week, as well as how many meals you want a day (two vs. three).
At five days a week for two meals a day (lunch and dinner, plus sides), you're generally looking at $137.99 per week, or $13.80 a meal. Delivery dates vary depending on where you live, but you can expect to see your meals about three days after you order them.
View this post on Instagram
Umami-packed Parmesan meets light, flaky cod. This is how we do keto 😋 Parmesan-Crusted Cod on this week's Keto Menu #GreenChef #KetoRecipes #Keto
A post shared by Green Chef (@greenchef) on
Green Chef only offers organic meals that you actually make at home. They also service other dietary needs, so you just need to make sure you order from the keto section (which is also gluten-free).
How it works: Plans vary, but usually cost around $12.99 per meal for the keto plan. You can sign up for a two-person plan that gives you three dinners for two people that's delivered once a week.
The ingredients for the meals show up, and then you prepare them yourself. (Green Chef swears all meals can be made in 30 minutes or less.) If you're interested in a meal-delivery service, but still want to see everything that goes into your dishes, this is probably the one for you.
View this post on Instagram
We're keeping you fat fueled with our keto menu! Our chefs have curated delicious and well balanced meals so when you don't have time to cook, your lifestyle doesn't have to suffer.
A post shared by Whole30 Approved Meal Delivery (@truefare) on
True Fare services other diets (including the Whole30), but also offers keto-friendly dishes. They use only grass-fed beef and free-range poultry, and organic vegetables.
How it works: True Fare offers up a few different options for their service. You can get 10 meals for $149.95 or 20 meals for $289.95, but you can also just make a one-time meal purchase.
They also offer just breakfasts if that's the meal that you really need help with. Meals are delivered frozen, and you just need to heat them up before eating.
Source: Read Full Article