The Big Dog is back. Wrestler Roman Reigns made his return to WWE Raw on Monday night with an incredible announcement about his health: "I'm in remission, y'all," Reigns told the crowd, who promptly erupted in cheers.
In October 2018, Reigns—real name Leati Joseph "Joe" Anoaʻi—announced that he'd been living with leukemia for 11 years, and that it was back after a long period of remission. The wrestler relinquished the Universal Championship and took a hiatus from Raw. You can see a video of that emotional speech here.
"I'm not gonna lie, before my announcement in October, I was terrified, y'all," Anoaʻi said when he returned to the ring on Monday. "I was scared. I was insecure, and I didn't really know if I wanted to share that secret with the world."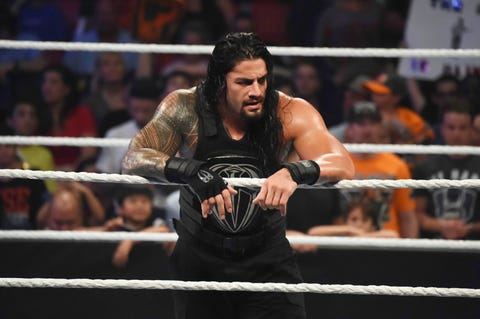 Ron Elkman/Sports ImageryGetty Images
The crowd chanted his name in support—which was timely, as the wrestler went on to thank his fans for being so supportive of him.
"That overwhelming support that you gave me, it gave me strength, it gave me new life, it gave me a new opportunity and it gave me a new purpose," he said. "You see, here in WWE, a lot of your purpose as a young superstar is to win titles and climb that mountain and achieve the top and put your flag in. And that's still very important, but for me, the only thing that is important is that I have the ability to step foot in this ring every single night.
"And if I can do that," he continued, "I'm gonna use this platform … to raise awareness, and I'm gonna use it to support those who are in need just like I was."
Finally, he made the announcement that his leukemia is in remission: "The Big Dog is back," he said.
On Friday morning, Anoa'i appeared on Good Morning America to talk about his health with Robin Roberts.
[email protected] NEWS EXCLUSIVE: @WWE superstar @WWERomanReigns talks with @RobinRoberts about his leukemia battle and support from fans, "We're striving to be role models." https://t.co/LUKfafEEKb pic.twitter.com/GUkrGQZwmu
Anoaʻi has an exciting year ahead of him. Besides returning to Raw, the wrestler will appear in the Fast & Furious spinoff, Hobbs & Shaw, as Dwayne "The Rock" Johnson's brother.
"I'm very proud of his focus, effort and authentic performance in our movie for his very first time on film," Johnson said of his cast-mate in a January Instagram post. "I'm also very grateful to spend this quality time with my cousin here in the islands as he takes life one day at a time to recover from leukemia.
"His perseverance and humility battling this challenge has inspired our entire family as well as millions around the world in our beloved WWE Universe."
View this post on Instagram
The brothers' roar. A lil' HOBBS & SHAW exclusive. Good times droppin' sweat and spillin' blood with my family, @RomanReigns who'll be playing my brother in our FAST & FURIOUS UNIVERSE. I'm very proud of his focus, effort and authentic performance in our movie for his very first time on film. I'm also very grateful to spend this quality time with my cousin here in the islands as he takes life one day at a time to recover from leukemia. His perseverance and humility battling this challenge has inspired our entire family as well as millions around the world in our beloved @WWE Universe. Can't wait to see the "Big Dog" return back to the ring – his positive & focused mindset to return is straight up next level. Til' then, this sacred Samoan 🇼🇸 ground you stand on is nourished with our ancestors blood. Today, we nourish it with yours. #WelcomeRomanReigns #Brothers #HobbsAndShaw THIS SUMMER 🔥💪🏾 @hhgarcia41 📸
A post shared by therock (@therock) on
Source: Read Full Article