If you've ever seen Scarlett Johansson on the red carpet, you know that she can bring it. Well, at the Avengers Endgame premier, she completely killed it.
ScarJo showed up in a gorgeous strapless metallic dress that showed off her toned legs, back, and general ScarJo-ness.
And, when she turned around, her pretty flowered back tattoo was on full display. (Umm, hello, were you aware that she had a massive back tattoo? Mind. Blown.)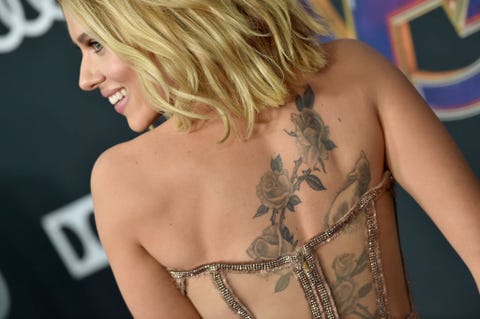 Getty Images
Also worth noting: Scarlett, who is notoriously private about her love life, brought her boyfriend (SNL star Colin Jost) to the premiere, which is kind of a BFD.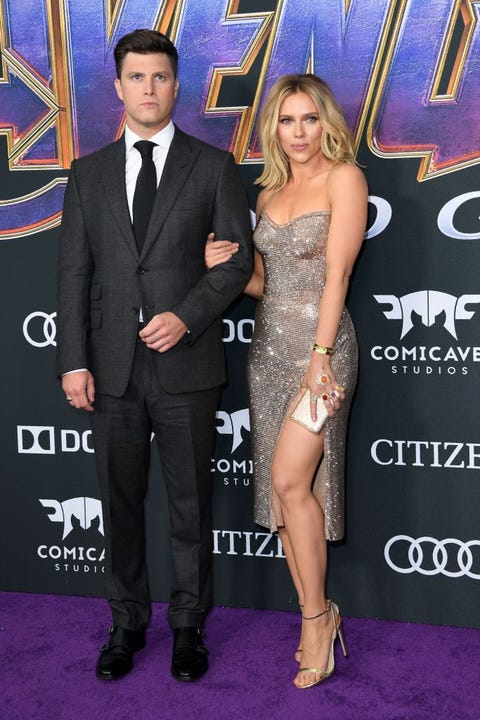 Getty Images
Okay, so we know she's got those ScarJo genes, but what, exactly, is she doing to look so good?
1. She uses a team of trainers.
Yeah…it takes work to look that fit. When Scarlett wants to get in uber shape, she turns to Ryan and Eric Johnson, the brothers behind Homage Fitness. Ryan and Eric are ScarJo's personal trainers and worked with her on Captain America: Winter Soldier, Ghost in The Shell, and Avengers: Infinity War – Part 1.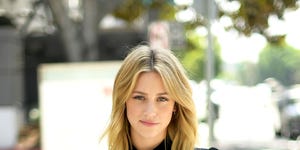 They also have a really cool recommendation, per Business Insider: The trainer duo encourage their clients to eat dark chocolate before working out. Apparently it's for the endorphin release. (Sign. Me. Up.)
2. She does circuit training.
To prep for her role as Black Widow in The Avengers, she did 90-minute circuit workouts, multiple times a week, according to Us Weekly. Her trainer at the time, Bobby Strom, had her use dumbbells, resistance bands, medicine balls, and TRX. Her workouts were built around sets of 20, with 25 to 30 reps of each exercise. She also did running intervals, both in and out of the gym.
Want a fast full-body circuit you can do at home? Try this workout:
3. She's really disciplined.
Scarlett told E! that she was big on working out, eating well, and getting plenty of sleep while filming Ghost in The Shell. "I actually appreciate that discipline," she says.
4. She still has dessert.
Scarlett told E! she's all for having a treat when she wants it. "When you're that disciplined, the 'cheat meal' doesn't really exist. You're sort of like, 'I earned this piece of chocolate cake—I'm going to go for it.' You don't even think about it," she says. Yesss.
5. She's "mostly" vegan.
Scarlett is cool with eating outside the strict confines of veganism, but mostly sticks to the diet, Strom told Us Weekly. She tends to eat a lot of oatmeal, fresh fruits and veggies, salads, and lean proteins, and has several small meals a day.
Clearly, it takes work to look ScarJo-level good.
Source: Read Full Article