With the exception of Instagram, Selma Blair has largely stayed out of the public eye since revealing that she was diagnosed with multiple sclerosis (MS) back in October.
But on Sunday, she blew people away in a stunning gown at the Oscars—her first red carpet appearance since sharing her diagnosis—and now she's speaking out about what her life looks like today.
In a new interview with Vanity Fair, Selma makes it clear that her diagnosis isn't a tragedy. Selma revealed that it took time to get a proper diagnosis—she spent five years trying to figure out puzzling symptoms, per VF—and that she worried that doctors would think she was being "dramatic" when she described her symptoms, which included neck pain, severe vertigo, trouble walking, sudden loss of feeling in her legs, anxiety, and depression.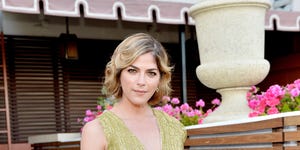 But finally, a doctor recommended that she get an MRI—and she was diagnosed with MS soon after. Selma recalled that moment—which happened on August 16, 2018—to VF: She requested the MRI technician to play Pink's "Just Give Me A Reason" to calm her. But within an hour of her MRI, doctors told her she had 20 lesions covering her brain—and that she had MS.
Multiple sclerosis (MS) is a chronic and often disabling disease of the central nervous system, according to the National Multiple Sclerosis Society. When someone has MS, the body's immune system attacks nerve endings in the central nervous system, which disrupts the flow of information within the brain and between the brain and body, the NIH says. Symptoms can vary, but generally include fatigue, spasticity, walking issues, numbness or tingling, weakness, vision problems, and pain, the NMSS says.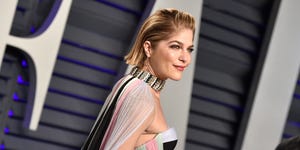 Selma was able to hide her symptoms for a bit, but as they progressed, her struggles have become more apparent. "I never thought I'd get this bad, to tell you the truth," she said. Now, her vision isn't as good as it could be and "dressing is a shit show," she said. She also makes uncontrollable grunts and screams sometimes and can no longer raise her arms to brush her hair. She also struggles with sleep. Selma said her 7-year-old son Arthur now likes to curl up next to her. "He wants to be closer to my body more, and I can tell he wants to make sure I'm still here inside. I used to be so athletic with him. Now I fall in front of him," she said.
Still, Selma said, she's learning to live with her illness. "There's a humility and a joy I have now, albeit a fatigued joy," she said.
Selma said she's been surprised at how much people have reacted to her condition. "I'm pretty much a nobody in Hollywood," she said. "But when I read comments on Instagram from people who were suffering, whether it was from MS, or anything, I thought, Holy shit, there's a need for honesty about being disabled from someone recognizable."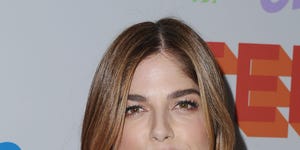 But, according to VF, there's only one thing that Selma complains about when it comes to her MS: The lack of accessible fashion—so much so, that she says she wants to start a clothing line. "I would like to partner with someone like Christian Siriano on a line for everyone—not just people who necessarily need adaptive clothing, but for those who want comfort, too," she said. "You shouldn't have to sacrifice style. Like, let's get elastic waistbands to look a little better."
As for her main fashion accessory right now, her cane, she refuses to be ashamed of it. "A cane, I think, can be a great fashion accessory," she said.
Now, she uses a cane to help her get around. "A cane, I think, can be a great fashion accessory," she said.
Selma says she's going to continue to share her story—not just for herself, but for others suffering from illness, too. "There's no tragedy for me," she said. "I'm happy, and if I can help anyone be more comfortable in their skin, it's more than I've ever done before."
Source: Read Full Article